2011/05/18
Do you like this story?
Nowadays, kitchens could have so many different appliances that not all of them are capable to accommodate all them. They also sometimes become a place for family meetings. Although many people have small kitchens so designers started to think about future concepts to solve the problem.
This Eco Kitchen designed by Faltazi with four main based components: waste management, food health, reduce energy consumption, and intelligent storage. Completed with several modules for distribution, processing and storage of organic solid and liquid wastes, and also built-in dishwasher, steam oven, refrigerators.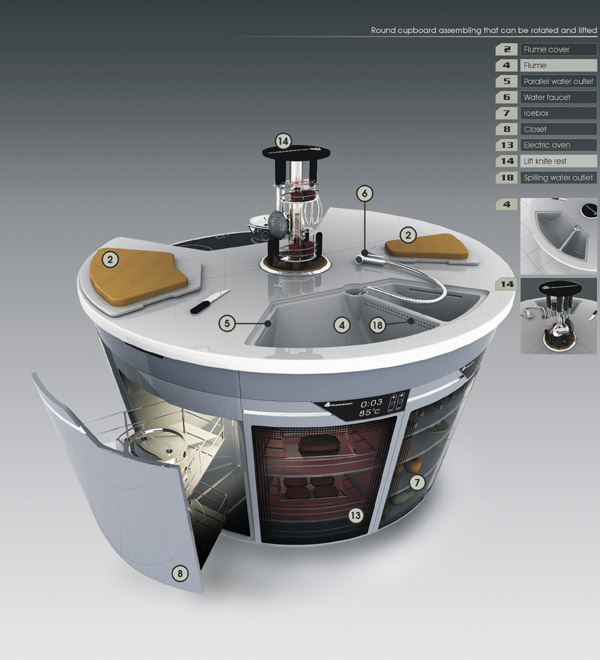 This year 3 Chinese designers create a great concept which definitely do the work. The concept is just for one part of kitchen – cupboard. Here some info from their description of smart kitchen cupboard:
- Cupboard consist of three main work areas: washing, cooking and mixing.
- Cupboard adopts double-deck rotators structure that can rotate can rotate it for 180°.
- Flume has two kinds of outlets: the parallel water outlets of induction type lie on both sides of flume and the holding type faucets with metal hose lie in the middle of two flumes, that can be suitable for operating under various environments.
- Abandon the board type, slide rail and hinge of the traditional cupboard completely. This cupboard regards the structure frame of aluminum alloy and the combination of stainless steel pipe as the integer structure. Adopt level bearing, hydraulic pressure system, shutting system to realize lifting of cupboard and wall cupboard.
- Integrative structures with operational table-board, flume and kitchen, cupboard distribute icebox, disinfector and oven symmetrically, other borders are closets.
- Lower cupboard is drawing structure, can pull out wholly while using, and make the operation simplify. Hang the kitchen ventilator under the top cupboard with function of illumination.
Kitchen has 360 degrees rotating shelves that help to access to pots, pans, glassware and so on. The Circle Kitchen® offers smart kitchen comfort compressed into the smallest space but with a storage capacity equivalent to 12 cupboards and a bench top length of approx. 3000 mm, equipped with refrigerator, dishwasher, ceramic hob, oven with microwave, range hood, sink and waste bin as a conventional kitchen. In addition, this kitchen can be placed.
Besides a packed schedule, unavailability of a compact or a smart kitchen is another reason that defers the working generation from cooking their meals at home, giving way to obesity and food related predicament. Addressing the issue for the working single or a couple, or even a small family for that matter, designer Faith Can Sarioz has come up with a compact, but at the same time unique, kitchen concept that easily fits in the small city apartments, allowing fresh and hygienic home made food for the working people. Hailed as "Tube," the mini kitchen module takes its shape from 2 tubes that are united by a stem. Presenting a double decked glass case, the modular kitchen also features a round cooker (with induction technology) for a burn-free cooking. You may store small dishes in the oval drawers; while on the other hand, a big hatch provides amble space for saucepans. Moreover, the mini kitchen includes a table that comes out the module to dine the food for a small family. Simply smart and space saving, a boon for compact urban apartments!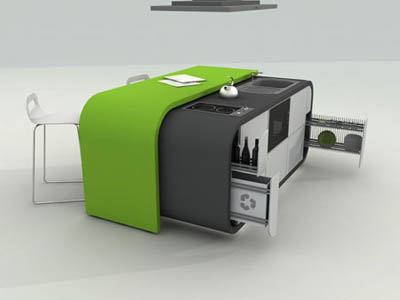 This modular kitchen is designed by Fevzi Karaman, combining a kitchen sink and a kitchen furniture, very clever. No wonder this kitchen design won the first prize at "silverline" kitchen design contest, the green apple color gives a sacred deco touches to the kitchen.
This post was written by: beemagnet77
BeeMagnet is a professional graphic designer, web designer and business man with really strong passion that specializes in marketing strategy. Usually hangs out in Twitter has recently launched a blog dedicated to home design inspiration for designers, bride, photographers and artists called HomeBase